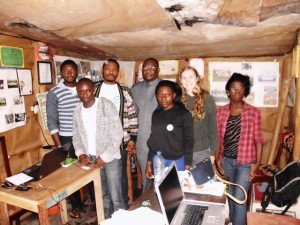 Green Cameroon's Research Partnership in Community Development With IRAD
Today at Green Cameroon, we received Mr. Sama-Lang Patrick from IRAD Ekona ( Institute of Agronomic Research and Development) Mr. Sama-Lang is a very valuable resources person to Green Cameroon and the objectives of his visit amongst others was to strengthen collaboration ties between Green Cameroon and IRAD in Community development.
Talking about collaboration between Green Cameroon and IRAD, Mr. Sama-Lang and the Green Cameroon team are working on developing a training program for our Hope From the Farms beneficiaries. Hope from the Farms is a project initiated by Green Cameroon that will encourage Cameroonian youths to get involved in medium scale agriculture as their main source of livelihood. Green Cameroon's support to beneficiaries under this project comes in 3 forms which are training or capacity building, start up seeds grants and start up equipment grants.  The training will be centered on how to propagate and successfully cultivate the respective food crop species they will be farming. Chosen crops so fare are, plantain, cassava and yams.
Another program on which Green Cameroon will be collaborating with IRAD Community Development is the Moringa For Life Project. IRAD will study the plant and develop a vegetative propagation strategy which will be used to promote the establishment and use of Moringa  Oleifera in the Bonavada Area of the Fako Division of Cameroon. Through this, Green Cameroon will produce thousands of seedlings and hand to or assist community members in planting. Community members will also be given training on how to successfully propagate and take care of the species on their own.
This project raises a lot of hope for the BONAVADA communities and will mark a change in the nutritional habits of the people.
Mr. Sama-Lang before leaving, lauded Green Cameroon's efforts towards the conservation of nature, Community Development and its promotion of Education for Sustainable Development. He was pleased to find the office fully functional at the heart of the rainy season when most organisations are known to be in hibernation around the region. He encouraged the organisation to keep up its good works and promised all the support within his means when ever needed.
Contact Green Cameroon If you wish to learn more about the medicinal and nutritional values of the Moringa plant. Be Part of the Change by joining Green Cameroon in its Community Development efforts  !!!