Green Cameroon' team today the 24 of July 2013, received at its office, Mr. Forkom Kehbila and Miss Suh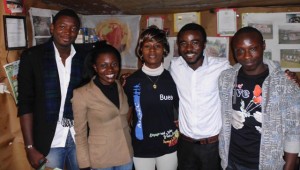 Clarice of AIESEC. AIESEC is an international platform for young people to explore and develop their leadership potential so as to have a positive impact on society.
The purpose of their visit was to introduce their activities to Green Cameroon and seek for possible avenues of collaboration between both institutions on youth development.
Green Cameroon's Director commended this positive move and complimented their good spirit and effort towards Youth Development. 
The visitors left feeling accomplished and promising to sustain the newly created relationship. Green Cameroon as an entity is open to partnerships with institutions both young and old that work towards the development and betterment of citizens worldwide. Should you have such a partnership in mind, please do not hesitate to contact us as our arms are always open.