GREEN CAMEROON advocates attitude change for better environmental protection
DO YOU KNOW!
That widespread environmental damage constitutes a great evil and a plague far from eradication? That environmental protection is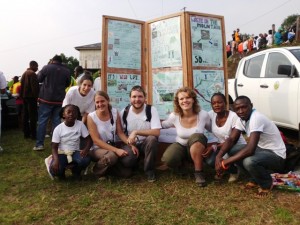 plagued by the uncertainty of the costs and benefits of our actions? That most of our actions towards the environment are hidden and often create uncertainties which sometimes become exogenous and incalculable?
YET we "cleanly live" to cope living with unknown, but real and apparent risks. The sad reality is that too often, we keep ourselves in the dark – whether by neglect or by design – because lack of information on our part seems to be manifestly created by us. It is worse that such outlook takes us one step further behind the veil of environmental uncertainty, the very environment which determines the existence and continuity of life.
GREEN CAMEROON, on World Environmental Day calls you to Be Part of the Change by striking not just a balance, but a perceived balance between awareness versus insecurity. Be part of that visible change by not permitting ignorance on environmental awareness to loom larger, particularly information on environmental and health-related dangers. Belong to a network of Right-to-Know through GREEN CAMEROON and its activities.
SHOCKINGLY, it is sadly conceivable and such a sickening thing that we have to fight with you just to save the environment, YOUR environment.
It is horrible that you don't want to understand and pass on the information that a clean environment constitutes the lungs of your sustained existence.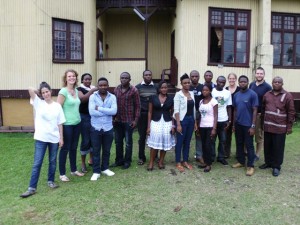 BE PART OF THE CHANGE. Pass on the message. After all, "the poetry of the environment is never dead" until you stop passing the message. Surrender yourself to environmental protection information. Maybe, just maybe, this could be that surest opportunity for you to rise up deep-rooted, like a tree. What use does it make to procreate good people or build fine houses if the environment is intolerable to it?
GET INFORMED about World Environmental Day at GREEN CAMEROON. It is only through dissemination of information that we can be sure to:
– Combat Land Degradation
– Ensure Sustainable Use of Natural Resources,
–  Cultivate a culture of moving from Individual Environmental Interests to Community Environmental Interests
THE ENVIRONMENT NEEDS YOU. It is unbelievably pathetic that IT MUST BE YOU;
– To plant a tree to provide shade for people you may never meet
– To solve the environmental crises that others create.
The environment does not need the best of you; just a decision and commitment. "The woods would be very silent if no birds sang there except those that sang best"
KEEP IN MIND
– More farms, more food
– More recycling, ultimately more preservation
– More clean space, better living space/less talk of dreadful conditions
– More waste-management age, more reminiscence of pure Stone Age environment
– More control of appetite, more free lunch from nature
– More friendliness to the earth, less she considers us cancerous to her existence
– More waste paper bins, more preservation of good tress
– Better neighbourhood, better environment.
IN ANY CASE, the earth belongs to the earth, not to YOU or ME. Therefore, the earth will not judge you by what you created, but by what you did not accept to destroy. Stop diminishing your future. BE PART OF THE CHANGE