Community Pig Farm Project funded by the Australian Government
Green Cameroon on Thursday the 22 of May 2014 Lunched it Community Pig Farm Project in the Vasingi Village Community of Buea.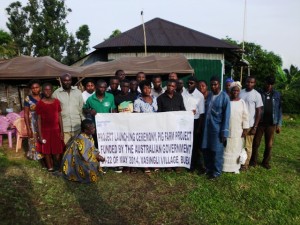 The Pig Farm Project will benefit unemployed youths, widows, orphans and single mothers of the Mount Cameroon Forest Region through the supply of start-up breeds for pig farming including training and follow-up. With funding from the Australian government, a community pig farm was established in the Vasingi village community where the piglets will be produced for distribution to the beneficiaries. Destribution will be coordinated by a Project Management Committee, made up of indegens of the beneficiary community.
This project involves the introduction of a conservation friendly livelihoods support system in the Vasingi Community. Through it, capacities of community members will be built on some alternative income generating activities aimed at improving their living standards, curbing youth unemployment, illegal hunting and malnutrition.
The project involves two main dimensions which are the capacity building and the economic empowerment dimensions. While the capacity building dimension involves equipping community members with all the skills and knowledge needed to run a pig farm, the economic empowerment dimension will ensure that they are provided with the necessary start up resources for carrying out these activities at individual level.
Objectives:
–         Curb poverty and youth unemployment in the vasingi community through the introduction of sustainable alternative income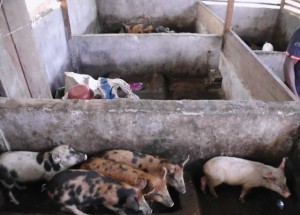 generating activities.
–         Fight against malnutrition by providing sustainable and affordable alternative sources of protein to families in these communities like chicken and pork.
–         Get community members involved in sustainable alternative income generating activities like small scale pig farming through capacity building and start up subsidies
–         Provide community households with alternative sources of protein to bush meat thereby discouraging hunting and poaching of wildlife in and around the Mount Cameroon National Park
–         Furnish community members with the skills needed to keep small scale farms and ease their access to start up resources through the provision of training and startup breed subsidies.
–         Get communities involved in the conservation and management of natural resources in the Mount Cameroon Forest Region through education and sensitization.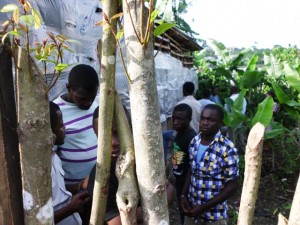 Representatives of the community thanked Green Cameroon and the Australian government for what they termed a life-changing project as the Community Pig Farm. They also promised to make the best of the farm and ensure that the development which is sought is achieved through hard work and devotion. The project ended with heavy feasting and interviews from press men.