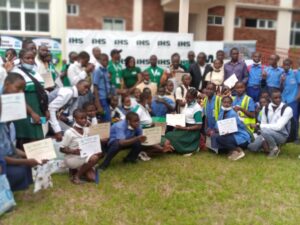 The International Day for Biological Diversity or World Biodiversity Day is a United Nations–sanctioned international day for the promotion of biodiversity issues, held annually on May 22.
It was created by the Second Committee of the UN General Assembly in 1993 until 2000, it was held on December 29 to celebrate the day the Convention on Biological Diversity went into effect. On December 20, 2000, the date was shifted to commemorate the adoption of the Convention on May 22, 1992 at the Rio Earth Summit.
This year's theme for international biodiversity day is "building a shared future for all life". This day is meant to raise awareness about biodiversity and the ecosystem services they offer to us human, who are completely dependent on a healthy ecosystem for food, water good air and many others. These ecosystem services are the basis for regenerating our planet for a sustainable future.
Green Cameroon on this day wishes everyone a happy biodiversity day and urges us to protect our biodiversity not just for sustainability purposes or for future generations but also for our own well-being. As our well-being and health solutions still lays in nature as we build a shared future for all lives.
Happy Biodiversity day 2022.