GREEN CAMEROON ON THE INTERNATIONAL PEACE DAY 2021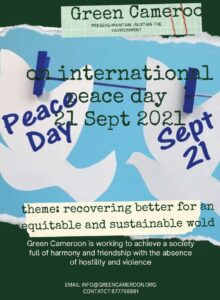 The international peace day is an annual event celebrated on the 21st 0f September. This day is also unofficially known as World Peace Day. The international day of peace was established in 1981 by the United Nations general assembly. In 2001, the UN general assembly unanimously voted to designate the day as a period of non-violence and cease-fire.
This day is dedicated to peace which is most specifically the absence of war and violence. They might be occasioned by a temporal ceasefire, a peaceful dialogue or peace offerings. The United Nations invites all nations and people to honor a cessation of hostilities during the day and otherwise commemorate the day through peace education and public awareness on issues related to peace.
The theme for this year's international peace day is Recovering Better for an Equitable and Sustainable world. The international Peace day provides a globally shared date for all humanity to commit to peace above all differences and to contribute to building a culture of peace.
Green Cameroon joins today's celebration by urging everyone to choose peace over every other thing. A country/city without peace will have no education and most of all no development. The lack of peace and unity in Cameroon has caused hardship to many and has led to thousands of people being internally displaced, especially those of the English speaking regions.
Peace is the only important language everyone wishes to understand. While recovering from the Covid 19 disaster, Green Cameroon has this day joined the peace campaign to spread awareness on peace and peace related issues. A peace filled and environmentally healthy environment for all especially the youths (leaders of tomorrow), is our main goal and what we advocate for.
Happy International Peace Day from Green Cameroon.
Be Part of The Change!!!
Berinyuy.