International youth day 2021
The international youth day is an annual event celebrated on the 12 of august. The youth lead innovation day was designated by the United Nations.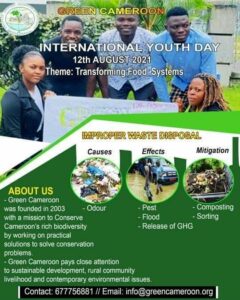 The theme for this year's international youth day is transforming food systems. The purpose of the day is to draw attention to a given set of cultural and legal issues surrounding our communities and celebrate the potentials of youths as partners in today's global society.
Green Cameroon has today joined the international youth day to educate communities around the mount Cameroon area in Buea about the positive and negative impacts of waste. This campaign will educate communities on how to improve their food and agricultural output using organic fertilizers (compost). Improper waste disposal and waste mismanagement has been one of the major problems faced in Buea and its environs. The effects of these practices are enormous with undesirable effects on our health and our environment.
Apart from ruining our environmental conditions, Improper waste disposal releases methane gases to the atmosphere, methane is a greenhouse gas that causes depletion of the ozone layer (the earths atmospheric layer that protect us from harmful ultraviolent radiations from the sun) causing global warming and hence climate change. Climate change is presently a global environmental concern due to its devastating effects on our environment. Green Cameroon is carrying out sensitization programs to education people on the negative impacts of improper waste disposal on both humans and the environment, and the positive aspects and uses of waste. Join US For The Change You Need!!!