World Hemophilia Day 2014: Speak out. Create change
Green Cameroon joins the World Federation of Hemophilia (WFH) an international non-profit organization dedicated to improve the lives of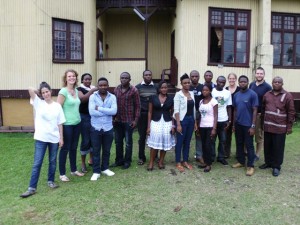 people with hemophilia (also spelled haemophilia) and other genetic bleeding disorders. It educates hemophiliacs and lobbies for improved medical treatment. 75 percent of people in the world with bleeding disorders do not receive adequate treatment.
The WFH was established by Frank Schnabel in 1963 and has its headquarters in Montreal, Canada. It has member organizations in 113 countries and official recognition from the World Health Organization. The current President is Alain Weill.
On the 17 of April 2014, World Hemophilia Day will focus on encouraging the global bleeding disorders community to speak out. Create change. This year we are making a particular effort to reach out to young members of the community so as to promote their participation and to develop strong leadership. We want our young members to feel inspired to assume key roles in building and supporting the bleeding disorders community.
Civilization is a race between education and catastrophe. The great difficulty in education is to get experience out of ideas but catastrophe comes in when we can't dream any longer because a child educated only at school is an uneducated child. The main object for education is to prepare the young to educate themselves throughout their lives. Inspiring both educated and uneducated young people in our society to support the bleeding disorders community create lots of boldness because Helen Keller said the fearful are caught as often as the bold. Therefore, if our main motive was to speak out fearfully about Hemophilia without creating changes, then we would be talking of avoiding this sick community but we understand thatavoiding danger is no safer in the long run than outright exposures.
Exposing the healthcare development work of the World Federation of Hemophilia (WFH), Green Cameroon wants to call for thecollaboration of dedicated youths, group of medical and lay volunteers, to carry out a comprehensive development model aim to achieve sustainable comprehensive care and treatment for all.
The WFH carries out its work through country-specific as well as global programs and activities. It focuses on:
–         Implementing national care programs to achieve sustainable comprehensive care
–         Implementing targeted country development action plans
–         Expanding capacity to achieve accurate laboratory diagnosis
–         Expanding training for health professionals
–         Implementing national member organizations (NMO) leadership skills training nationally, regionally and globally
–         Promoting NMO development; etc.
Never doubt that a small group of thoughtful committed citizens can change the world; indeed, it's the only thing that ever has. Participate in your own small way remember that this world will not be a good place for any of us to live in unless we make it a good place for all of us to ,live in.
Happy world Hemophilia Day
Njeke Joshua E, Green Cameroon.