Green Cameroon Supports 10 Youths In Aggro-Business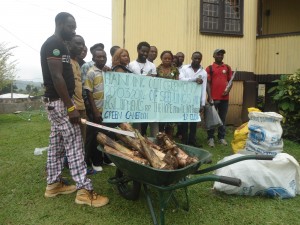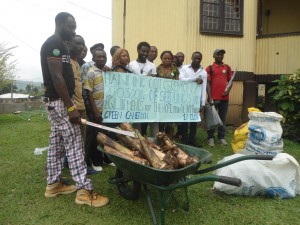 Hope from the Farm Project
In a world traveling at a hundred miles per hour, we are determined to slow down one acre at a time. We can't claim to be 'certified' anything or 'organic' this or that, but what we know is that we do things like our great-grandparents, with humility, integrity and respect for the animals, land, and forthcoming generations. Join Green Cameroon on an authentic journey of connecting with our community, our food, and our future.
Many Cameroonians have never seen the ignorance, degradation, hunger, sickness and futility in which other Africans live… They won't become involved in economic or political change until something brings the seriousness of the situation  home to them. Our main idea for the Hope from the Farm project is to bring this serious situation to youths interested in agriculture in order to make a living out of it in spite of our current rate of unemployment but having in mind that we must accept finite disappointment, but we must never lose infinite hope.
One thing we have been doing is writing and when writing the story of your life, don't let anyone else hold the pen; aspire to make a difference not just a living. Green Cameroon chooses to hold its own pen by selecting some few communities such as Bova I, II and Buea town. Where 10 hardworking youths were chosen, and were supported to get into agriculture. They also had to present a responsible shorty in the person of a father, mother or any responsible personality.
Our choices of crops were: Cassava, Plantain and yams with reasons of choice being easy to cultivate, acquire less labor and they all get mature at the same time with great outputs if well catered for and their economic return are high. Green Cameroon provided the necessary capital in partnership with the 1% Club as well with technical aspect such as agroforestry trainings with the aid of experts from known institutions such as Trees for the Future and Mount CEO.
The lunching of the project took place on the 20th of March 2013 at Mount CEO's office in Buea with the guest from the Antioch University of the USA involved in workshops attended by the selected youths. After these workshops, the entire Green Cameroon team accessed the lands before giving the farmers provisions of high quality seedlings, equipment and tools for efficient work to be guaranteed such as wheel barrows, spraying cans, farm boots, spades, just to mention a few.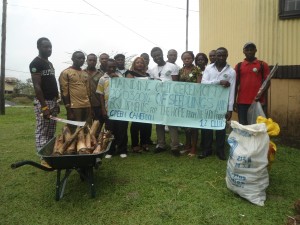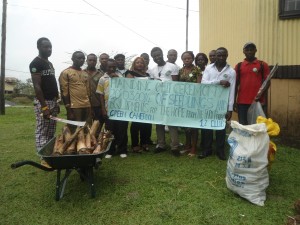 Margaret Mead said that: "Never doubt that a small group of thoughtful committed citizens can change the world; indeed, it's the only thing that ever has". This explains why at the end of the year, these youths are required to bring just the initial capital that was invested in them. Green Cameroon would then continue the process again by giving this same amount to other set of youths in the same or other communities involved in agriculture.
Many people fear nothing more terribly than to take a position which stands out sharply and clearly from the prevailing opinion. The tendency of most is to adopt a view that is so ambiguous that it will include everything and so popular that it will include everybody. Not a few men who cherish lofty and noble ideals hide them under a bushel for fear of being called different but at Green Cameroon, we chose to be different because one man with courage makes a majority.
Gaining inspirations from Harry S. Truman who said "I studied the lives of great men and famous women, and found that the men and women who got to the top were those who did the jobs they had in hand, with everything they had of energy and enthusiasm and hard work". We then say to youths out there who may have interest in joining the Hope for the Farm project that; if you would be leader of men, you must lead your own generation, not the next.
Njeke Joshua E