New set of piglets at Community farm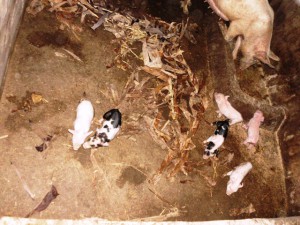 Green Cameroon announces with great joy the arrival of a new set of piglets at the Vasingi Community Pig Farm. Funded by the Australian Government and launched in June 2014, the Vasingi community pig farm is intended to serve as a training and research ground on pig farming and a source of livelihood to community members.
The new litter of piglets comes as a joyful event as it means that more community members will benefit from the project.
The piglets were farrowed on the 31st of January 2015 and will be ready for giving out in 6 weeks time. The project management committee will be in charge of selecting the next group of beneficiaries in due time.
Green Cameroon uses this opportunity to wish a Happy New Year 2015 to all Friends and Supporters.
Join us and be part of the Change!!!