World Music Day 2014!
          Last year was a great success and this year will be even better. Check out the Events, Maps or Listings to find something happening near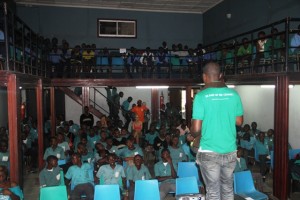 you. What better way is there to celebrate the longest day of the year?
Music Day is a connected set of free public events which takes place each year on the 21st June, our midsummer. Last year there were events in 108 countries and 726 cities around the world. The event is also known as Fête de la Musique (or World Music Day) and originated in France in 1982. Since then the idea has spread across the globe with each event holding to the same simple set of principles: that the day is held on the mid-summer solstice and that all concerts and events are free and accessible to the public.
Music Day is about creating a tangible presence of music throughout the whole day, wherever you are. It isn't about any specific forms of performance or musical style or setting. In fact, Music Day is about an active sharing of different cultures from Cameroon and the rest of the world, with an emphasis on participation and hosted in an open and accessible way.
2013 was the first year that Green Cameroon made a coordinated contribution towards Music Day, with us publishing an article. We believe that our contribution will grow exponentially in 2014-2015 as both dates fall on a weekend. We are asking everyone to think about how they can participate in a contribution to Music Day — whether that be performing, organizing an event, convincing a venue to take their music outside or lending your time, equipment and support.
Of course you can also just turn up and join in the celebrations! To get this event taking hold in the society, we need people to spread the word. Please join Green Cameroon's mailing list, follow us on social media, or send our press release out to your own networks, friends and colleagues.
Other people may also be confused about what kind of event they could organize, or where to hold it. That is why this Inspirational Green Cameroon site exists – to stir up your grey matter and hopefully inspire some ideas of your own.
Happy world music day
Njeke Joshua E, Green Cameroon