World Nelson Mandela's Day 18th July, 2014
Theme: "one man's vision and journey provided the world's change-makers with an opportunity".
The Nelson Mandela international day also known as Nelson Mandela's day remembers his achievements towards conflicts resolution,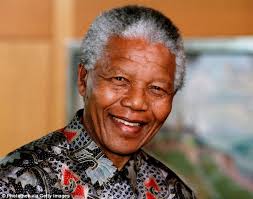 democracy peace, human rights and reconciliation. It's a day that calls people together to have a positive effect on others around them. It's important in world's history because Mandela was born on the 18th of July 1918 in Transkei, South Africa. His birth day makes people to remember the contributions he did to the world through his active movement in resolving conflicts promoting human rights and addressing racial issue. Green Cameroon recognizes Mandela as a human activist for 65 years with the notion of "we can change the world and make it a better place".
Professor Njabulo Ndebele of the Mandel's foundation said that people all over the world should use this event as a shining example of what can happen when people come together to address social injustice and do good.
Green Cameroon has been initiating growing sustainable projects to contribute to the world's growth positively and this year we are calling on the entire world to join us in helping to conserve our environment, reach orphans and to see every day as Mandela's day in order to put a smile on everyone's face. We encourage individuals, groups and even organizations to spend at least 67 minutes of this 18th of July to meditate on this year's theme and even after this day to make a change in their community with a positive vision like Mandela's.
We join Mandela's Foundation to identify key major problems in the world to contribute to education and literacy, shelter and food scarcity, environmental pollution, racism, gender imbalances, etc. Participation through volunteerism is also encouraged.
No matter how small you may think your vision is, remember that Mandela had a vision as small as yours but see how big it became even after his death.
Happy Nelson Mandela's Day
Ebangha Etchu, Green Cameroon.