Hepatitis Day 2014: 'Think again'
The date of 28 July was chosen for World Hepatitis Day in honor of the birthday of Nobel Laureate Professor Baruch Samuel Blumberg,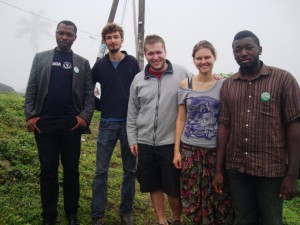 discoverer of the hepatitis B virus. This year July 28, marks the 4th annual World Hepatitis Day. Nearly 400 million persons are living with hepatitis B or hepatitis C, and more than 1 million die annually as a result of their infection. This year, Green Cameroon joins the global commitment to prevent and control viral hepatitis through the passage of resolutions, which calls for raising public awareness, improving surveillance, strengthening prevention interventions, and to create an environment for care and treatment services.
Blood transfusions save lives, and globally more than 100 million units of blood are donated annually. Ensuring access to safe blood is a key strategy for the prevention of hepatitis B and C. In many of the poorest countries of the world, less than 50% of the blood supply comes from voluntary, unpaid donors that were adequately screened for transfusion transmitted infections, including hepatitis B and C.
All across the world, World Hepatitis Day is our chance to call for a change in attitude to viral hepatitis. Green Cameroon and partners will urge policymakers, health workers and the public to 'Think again' about this silent killer. We're got loads of ways for you to get involved
Each year, Green Cameroon puts up articles and a list of promotional activities to be given out to organizations and individuals throughout the world in order to promote the campaign message. This year's message, consistent with that of 2013, was "Know Your Status – Get Tested".
World Hepatitis Day provides an opportunity to focus on specific actions, such as:
Strengthening prevention, screening and control of viral hepatitis and its related diseases;
Increasing hepatitis B vaccine coverage and integration of the vaccine into national immunization programs;
Coordinating a global response to viral hepatitis.
People could also come up with materials for this year which may include t-shirts, water bottles, pens, flashlight key-chains, lip balms, tote bags, postcards and balloons emblazoned with the campaign message. We hope to spread awareness about hepatitis through these events and materials in order to encourage everyone to know their status and get tested.
"Think about it"