World Wildlife Day 2015
World wildlife day is an opportunity to celebrate the many beautiful and varied forms of wild fauna and flora and to raise awareness of the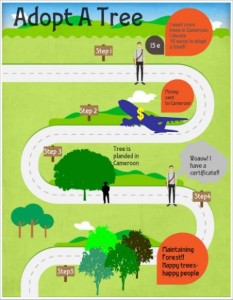 multitude of benefits that conservation provides to people. At the same time, the 3rd of March reminds us of the urgent need to step up the fight against wide-ranging economic, environmental and social impacts.
Wildlife has an intrinsic value and contributes to the ecological, genetic, social, economic, scientific, educational, cultural, recreational and aesthetic aspects of sustainable development and human well being. For these reasons, all member States, the United Nations system and other International organizations, as well as civil society, non-governmental organization including Green Cameroon and individuals, are invited to observe and to get involved in this global celebration of wildlife. Local communities can play a positive role in helping to curb illegal wildlife trade.
At Green Cameroon, our vision for this year's wildlife day is getting serious about wildlife crime by enrolling the support of all sectors of the society that are involved in the production and consumption of wildlife products, which are widely used as medicines, food, building materials, furniture, cosmetics, clothing and accessories.
Though the threats to wildlife are great, we can reduce them through our collective efforts. On this inaugural world wildlife Day, We urge all these sectors to end illegal wildlife trafficking and commit to trading and using wild plants and animal sustainably and equably.