Feedback from our Hope from the Farm Project
Green Cameroon made another official visit to inspect the young farmer's farms on the 3rd of April 2014. The visit came under the hope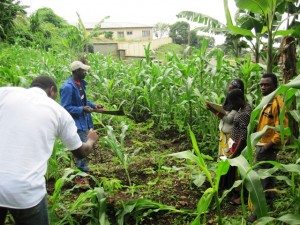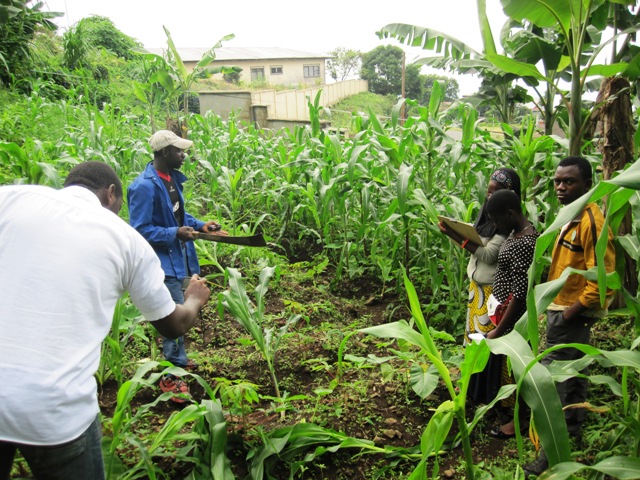 from the farm project which was launched by Green Cameroon. The purpose of the visit was to inspect the farms and see how the youths are taking care of the crops, to ask them the various difficulties faced inquire if they needed any help.
The first farmer we visited was Mr. Njikang who collected yams seedlings from Green Cameroon. His farm is located in Buea town closed to the D.O's office. The first impression we had of the farm was so encouraging due to the fact that it was very clean and the crops were well catered for. We noticed hips of cones built using the soil of about half a meter above ground level where the yam seedlings were planted on and other crops as well were planted around these seedlings to protect them from erosion, wind and to enrich them.
Mr. Njikang told us of the difficulties he faced and still faces in this farm. One of the areas he complained of is labour and time. He explained that the cultivation of yams require lots of labor and is very time consuming because yam cultivation needs the farmer to be around almost every day to remove weeds around the cones, direct and control the stems to find their way up the sticks placed around them. He also complained that this farm faces problems from the wind that's why he had to plant other crops to act as wind breaks since as most of the sticks are pushed down by strong winds. When it comes to stray and wild animals, he complained of them not disturbing the yams but instead they eat and destroy the other crops such as maize, coco yams, pepper and beans.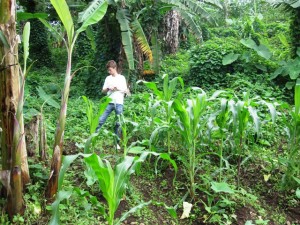 Our farmer told us he can handle all the problems he was facing in the farm and shared with us how happy he was with our visit because it kept him on his toes to work very hard. After our detail inspection, we had to see the heights of the plants and to know total number of yams growing in order to confirm with the numbers he took and our finding were encouraging as well.
After being interviewed by young students from the YAN (Youth Advocacy Network) club doing their internship with Green Cameroon, some pictures were taken and the entire delegation thanked Mr. Njikang for what they termed a wonderful experience which they had visiting his farm. The interns from YAN club also promised to make the best of what they learned and ensured that they will make an effort to visit again.