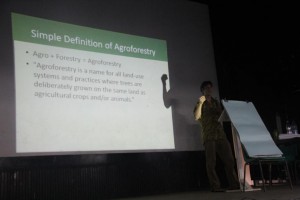 Yesterday, one more brilliant day in the Green Week! Our day on Agriculture, under the slogan "Protect your land, grow your future" mainly handled on sustainable & alternative agricultural techniques: organic farming and agroforestry.
Our colleague, Cynthia Sama, started the day with an introduction on Agriculture in Cameroon. After that, we were honored by the presence of great speakers: the sub delegate for Agriculture and rural development of Fako devision, Matt Piscopo from Trees for the Future & Nyiwung Valery Colong, excutive director of Agro-Hub. Thank you!
We ended this very interesting day with a shocking movie, "Local Solutions for a global disorder".
You can find many pictures of the whole Green Week on the Facebook event page!