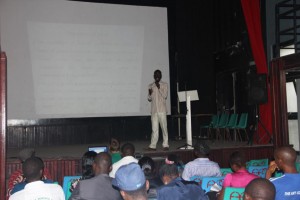 Yesterday, our Green Week got started with our Forest-day. Today, "Water" is our main subject with presentations of CamWater and Live Build, open discussions and an eye opening movie, called "FLOW – For Love Of Water".
The program of today. Choose whatever interests you most and come at any time you like :
1 :00 – Opening doors + exhibition
2 :00 – Introduction to Water cycle and water management
3 :00 – Presentation of CamWater initiatives
4 :00 – Open discussion on community management of water : advantages & challenges
5 :00 – Live Build: Access to water for everyone
6 :00 – Movie: Flow
Alliance Franco-Camerounaise is the place to be and the entrance is free!
See here some pictures of yesterday: