World Press Freedom Day 2014
World Press Freedom Day is annually observed on May 3 to inform the international community that freedom of the press and freedom of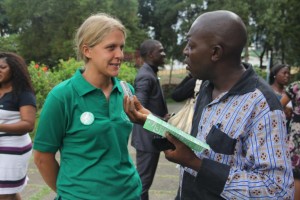 expression are fundamental human rights. This day reminds people that many journalists brave death or face jail to bring daily news to the public.
World Press Freedom Day gives people the chance to pay tribute to media professionals who risked or lost their lives in the line of duty. Many communities, organizations and individuals take part in this day through various events such as art exhibitions, dinners featuring keynote speakers, and awards nights to honor those who risked their lives to bring news to the world.
The 2014 World Press Freedom Index spotlights the negative impact of conflicts on freedom of information and its protagonists. The ranking of some countries has also been affected by a tendency to interpret national security needs in an overly broad and abusive manner to the detriment of the right to inform and be informed. This trend constitutes a growing threat worldwide and is even endangering freedom of information in countries regarded as democracies.
Finland tops the index for the fourth year running, closely followed by Netherlands and Norway, like last year. At the other end of the index, the last three positions are again held by Turkmenistan, North Korea and Eritrea, three countries where freedom of information is non-existent. Despite occasional turbulence in the past year, these countries continue to be news and information black holes and living hells for the journalists who inhabit them.
This year's index covers 180 countries, one more than last year. The new entry, Belize, has been assigned an enviable position (29th). Cases of violence against journalists are rare in Belize but there were some problems: defamation suits involving demands for large amounts in damages, national security restrictions on implementation of the Freedom of Information Act and sometimes unfair management of broadcast frequencies.
Countries that pride themselves on being democracies and respecting the rule of law have not set an example, far from it. Freedom of information is too often sacrificed to an overly broad and abusive interpretation of national security needs, marking a disturbing retreat from democratic practices. Investigative journalism often suffers as a result.
William Feather said that "conditions are never just right" but at Green Cameroon, we appreciate the courageous works done by journalists all over the world despite the risk they face because courage is rightly esteemed the first of human qualities because it is the quality which guarantees all others.
Happy world Press Day
Njeke Joshua E., Green Cameroon.